ACS Technologies Ltd
Approved ICT Services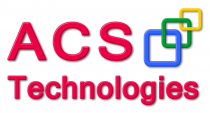 Website: acstech.co.uk
Email: hello@acstech.co.uk
Phone: 01628 819500
Address: Suite 4 Soho Studios, 1 Soho Mills
Town Lane, Wooburn Green, HP10 0PF
Founded in 1994, Access Computing Solutions started out as a supplier of personal computer systems and associated peripherals.
In 1998 the company bought Halations, a local IT support and maintenance organisation, to provide time critical support to their customer base.
In 2010, the company started trading under the name of ACS Technologies to reflect the complete range of IT, communications and technology products and services that the company now provides.

Our services include:
IT Support & Maintenance
Cloud & Hosted Solutions
Hardware & software supply and installation
Anti-virus & Security Solutions
Networking & Communication solutions
Consumables & Parts
Internet & Email solutions
Leasing & Financing options
We assist businesses to identify, plan and execute successful office moves along with any refurbishment and changes within an existing location.

Working hand in hand with our clients we help identify critical areas and ensure that IT does not become a disruptive factor of any move.


Based in
Suite 4 Soho Studios, 1 Soho Mills Town Lane, Wooburn Green HP10 0PF
Works across
Wherever you are in your office move process Help Moving Office has the information you need to plan your office move properly.

Start Planning

With over 20 guides, checklists, tools & calculators the Resource Centre has everything you need to plan, organise & manage a successful office move.

See Resources

Looking for the right companies for your office move? Connect with independently sourced and pre-qualified companies that are experts in your local market.

The Directory
Latest Tips
The London Office Market is moving to the benefit of Tenants moving office

Read Article

Find out some of the key considerations for a successful office move.

Read Article

How do I even begin to plan an office move? Good question ... read on to find out how best to tackle the planning of your office move.

Read Article