Vyne Interiors Ltd
Approved Office Interiors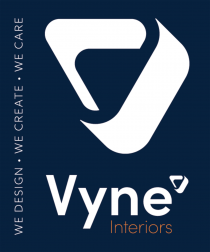 Website: www.vyneinteriors.com
Email: info@vyneinteriors.com
Phone: 01635 247643
Address: 1 Langley Farm Cottages
World's End, Beedon
Newbury, RG20 8SD
Vyne Interiors take time to understand our clients and what they need. With the current pandemic you might need to rethink your office space enlarging meeting rooms to make a suite for clients to meet with your staff, whilst keeping a social distance. You might want a more open plan collaboration area for home workers to touch base with their team safely, touch down and work for the day without a regular desk, to allow more space between those who do have to work in the office. Whatever your needs Vyne Interiors Ltd can offer advice, simple replanning and basic refurbishment, as well as full design & build.
We pride ourselves on designing practical, efficient workplaces that will inspire your existing team to come to the office, attract new employees and make your business more productive. Your business's demands are taken on board and implemented comprising calculated choices of furniture, finishes and fittings to suit your budget, whilst our extensive knowledge of DDA and CDM procedures makes the whole process as smooth as possible for you. We also pride ourselves on our customer service, treating all our clients as if they were our only client; 80% of our work are referrals from previous clients.
We can also offer:
Advice
Office Churn Moves
Regular Space Planning Services
Feasibility Studies to help you find that perfect new workplace
Furniture - We supply and install office furniture at competitive prices
Whatever your workplace needs; contact us for an informal chat to find out how we may be able to help you.

Based in
1 Langley Farm Cottages World's End, Beedon Newbury RG20 8SD
Works across
Wherever you are in your office move process Help Moving Office has the information you need to plan your office move properly.

Start Planning

With over 20 guides, checklists, tools & calculators the Resource Centre has everything you need to plan, organise & manage a successful office move.

See Resources

Looking for the right companies for your office move? Connect with independently sourced and pre-qualified companies that are experts in your local market.

The Directory
Latest Tips
The London Office Market is moving to the benefit of Tenants moving office

Read Article

Find out some of the key considerations for a successful office move.

Read Article

How do I even begin to plan an office move? Good question ... read on to find out how best to tackle the planning of your office move.

Read Article