Margolis Office Interiors
Approved Office Furniture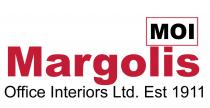 Website: www.margolisfurniture.co.uk
Email: info@margolisfurniture.co.uk
Phone: 020 7387 8217
Address: 341 Euston Road
London, NW1 3AD
Margolis Office Interiors has access to the widest range of products carrying a minimum 5 year guarantee and we only showcase products which offer the best quality and value for money, suitable for the home or office, with fast delivery times.
Our services include design, space planning, hire/lease, repairs and re-upholstery, disposal of second-hand furniture, storage and filing solutions, as well as a selection of the widest range of office furniture to meet all designs and budgets.
A dedicated Account Manager will work with you on the interior planning and furniture selection, and provide on-going Account Management, which includes providing information on delivery timescales and aftercare assistance.
Thanks to years of experience, knowledge and a vast network of contacts in the furniture industry, Margolis Office Interiors offers the complete solution to all of your office furnishing requirements.
A Company not to be compared with any other – our time in the industry guarantees that we will be here in years to come, to cater for your needs.

Contact Margolis Office Interiors
Based in
341 Euston Road London NW1 3AD
Works across
Wherever you are in your office move process Help Moving Office has the information you need to plan your office move properly.

Start Planning

With over 20 guides, checklists, tools & calculators the Resource Centre has everything you need to plan, organise & manage a successful office move.

See Resources

Looking for the right companies for your office move? Connect with independently sourced and pre-qualified companies that are experts in your local market.

The Directory
Latest Tips
The London Office Market is moving to the benefit of Tenants moving office

Read Article

Find out some of the key considerations for a successful office move.

Read Article

How do I even begin to plan an office move? Good question ... read on to find out how best to tackle the planning of your office move.

Read Article